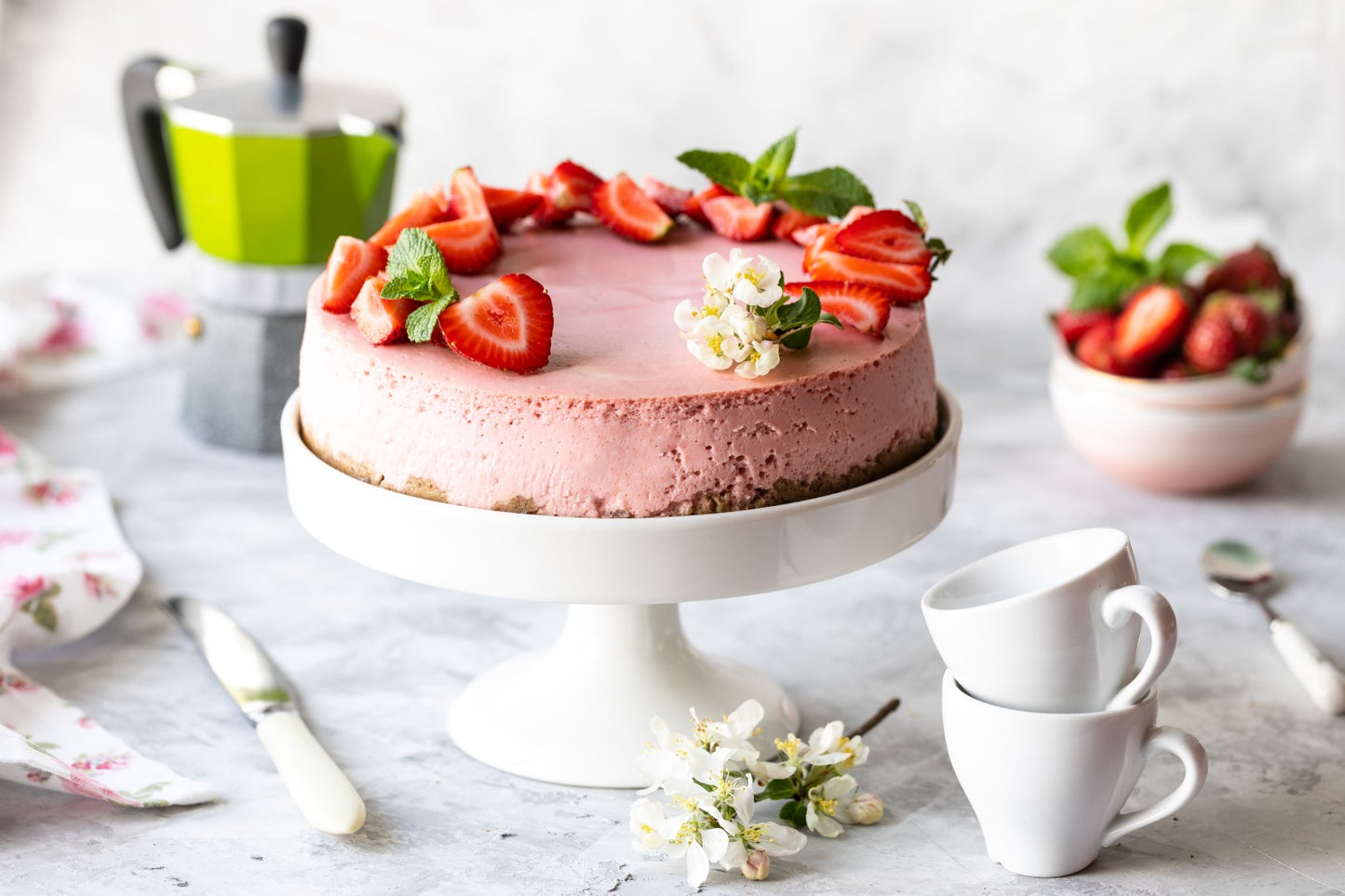 Strawberries and Cream Cheesecake
A delicious recipe for the whole family. This recipe uses our 100% pure strawberry powder, for an intense yet natural strawberry flavour that everyone will love.
INGREDIENTS
For the base: 
10 plain digestive biscuits crushed
60g butter
1 tsp Soft brown Sugar
For the filling:
METHOD
For the base:
Melt the butter in a small saucepan.
Add the biscuit crumbs and sugar and mix well together.
Spoon the mixture into a lightly oiled

20cm flan or cake tin,

and press down evenly to make a firm base.
For the filling:
In a small cup, add the gelatin to 3 tablespoons of cold water and place in a pan of simmering water.
Allow to continue simmering for about 10 minutes until it appears transparent. Leave to cool.
Place the cottage cheese, egg yolks and sugar in a liquidiser and blend for about a minute.
Pour 4 tablespoons of warm water into a small basin and, mixing continuously, add the Strawberry Powder. Stir until completely dissolved.
Pour this liquid into the liquidiser followed by the gelatin poured through a strainer.
Blend all these ingredients together until thoroughly combined and smooth.
In a separate basin, whip the cream until soft peaks form and add to the mixture.
Blend again for about 10 seconds until the mixture is an even colour.
Pour into the tin over the biscuit base.
Cover with foil and place in a refrigerator, preferably overnight, until completely set.
Enjoy!